Brian Williams started Dovetail Carpentry in 2011. His fondest memories are growing up watching his dad, who was also a carpenter, make custom tables chairs and use his lathe. As his father shared his skills with him, Brian grew into a great craftsman specializing in cabinetry. He distinctly remembers learning the dovetail joint. Brian named his company Dovetail Carpentry in memory of that moment and all like it.

Since then, Brian and his sons, Jaden and Josh, have expanded the business and helped hundreds of happy clients with their remodels and solve their organization problems. Jaden and Josh grew up with fond memories of their father in his workshop as well and look forward to carrying on the family business.

We are a family-owned carpentry company and we specialize in cabinetry. Our goal is to help our clients make their living space into a place they are more than happy to call home. We have years of expertise and can often offer a unique viewpoint and problem-solving strategy to storage or design obstacles. We are proud to be able to provide our clients with unique storage and design options that fit any home, room, or budget and we always up for a challenge.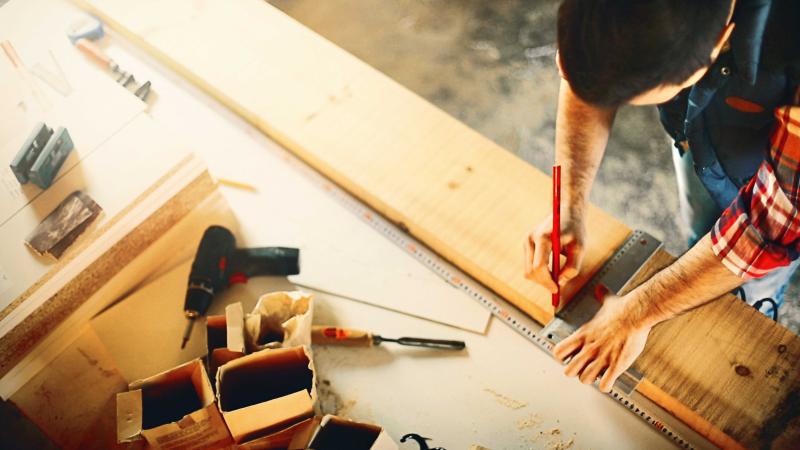 Brian Williams
Owner/ Lead Designer
Josh Williams
Co-Owner/ Lead Designer
Jaden Williams
Co-Owner/ Lead Carpenter
Patrick Abrahamson
Carpenter/Installer
Doug Neigle
Carpenter/Installer
Dovetail Carpentry is great to work with.
We were really struggling with the lack of storage in our laundry room and we weren't sure what to do. One of our friends recommended Dovetail Carpentry after they used them in their kitchen remodel. We did some research and let them know what we were looking for. They showed us some examples of work they had already done and drew up some plans. A few months later they installed the cabinets and shelving and we are in love. I had no idea we could get so much room out of our unused spaces. They were honestly great to work with.
They were a godsend
I'm a stylist so I have "a lot" of clothes. I had to dedicate a room in my home to basically hold my wardrobe. I needed to get the layout and storage under control so I could show it to clients and find certain items. Dovetail Carpentry were a godsend. They helped me figure out the design and layout that worked best for my needs and space and I could not be more grateful to have found them
My office finally feels like me
I had to start working from home a few years ago. It was fine at first. I just set up everything on a card table in our spare room and did my job, but after a while it got harder to focus. When my job was moved to remote permanently I knew I needed a better solution. I found a lot of inspiration images and layouts but I had limited space. Dovetail Carpentry made a desk, shelves and, cabinets that fit my space and it was all within my budget! My office finally feels like me and now I'm excited to "go to work."